Biking | Diving | Flying | Golf | Horseback | Paintball | Racing
Welcome to Bob Bondurant
School of High Performance Driving

Located at the Firebird International Raceway Complex
P.O. Box 51980
Phoenix, AZ 85076-1980
1-800-842-7223
p 480-961-0143
f 480-403-7651
www.bondurant.com
BONDURANT...The name itself commands respect. Whether it's the School, its graduates, or the man himself, Bondurant creates a mystique found nowhere else.
As you approach The Bondurant School, you realize you're in the presence of greatness. Racing legend Bob Bondurant perfected his skills on the world's most demanding circuits, and won some of motorsport's grandest prizes. In 1964, he won the GT category at Le Mans driving a Ford Cobra Daytona Coupe with Dan Gurney, and then the World Manufacturers' Championship for Ford in 1965, beating Ferrari for the very first time!
In Formula One events, Bondurant drove for the Ferrari factory team, a privately-owned BRM, and for Dan Gurney's All American Racers Team. He also participated in European long distance races for Ferrari, Porsche and Shelby Ford Cobra American factory teams. And now you're a part of it.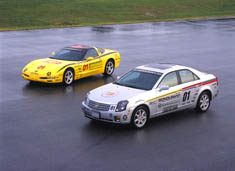 This is the place you've dreamed about. The place where racing professionals like Al Unser, Jr., Mark Martin, Rusty Wallace and Jeff Gordon learned their road racing skills. The place where movie stars such as Paul Newman and James Garner trained for the big screen in Winning and Grand Prix.
Bondurant is also the place where celebrities including Robert Wagner, Crystal Bernard, Patrick stewart and Jason Priestly developed maximum car control. And, more importantly, in it's 33 years of operation, this is the place where more than 85,000 others have shared in this experience and learned to drive like professionals.
Now it's your turn.

Just Arrived!
The Number One Auto Maker in the World Joins The Number One Leader in Driver Traingin.
The Bob Bondurant School of High Performance Driving proudly welcomes Chevrolet and Cadillac to their high performance driver training programs. Take advantage now and experience Bondurant from behind the wheel of these awared-winning vehicles.

Behind The Wheel
Bondurant's world-renowned curriculum includes advanced driver training methods found nowhere else. The emphasis is right where you want it - on driving. In fact, since every student is assigned their own car, roughly 80% of your time at Bondurant will be spent behind the wheel.

Click Here for Course and Price Information

Corporate Events
The Bondurant School is recognized as a world-class destination for corporate group events. Companies ranging from McDonald's, Motorola, Intel and Paramount Pictures, to Carlson marketing and Ganassi Racing have all utilized Bondurant for special incentive, entertainment and promotional functions.
We offer everything from action-packed half-day driving functions to multiple-day racing courses, for group sizes ranging form 5 to 200. Our half-day course is based on fun-filled activities such as ProKarts (or Team Slalom), Accident Avoidance, and "Lead and Follow" around the Bondurant racetrack. It also features a timed autocross, where participants can compete for special prizes, like our infamous "Cone Killer" award. Karting and multiple-day courses include use of Bondurant driving suits and helmets for that true racing experience.
The Bondurant facility includes an on-site 4,000 square foot museum, specially-designed for large group entertainment. This fully enclosed, air-conditioned, permanent structure can be used for meetings, lunches, dinners or parties during your group event. We can also arrange for complete catering packages, special decoration, and even live bands.
In addition, the Phoenix Valley continues to be one of the nation's top destination spots, offering a number of world-class resorts, golf courses, sporting events and Western adventures - just minutes away from Bondurant.
Capture the excitement of motorsports, and the surrounding beauty of the Southwest with a special group function at Bondurant. It's sure to be one of the most talked about and memorable events your group will ever experience. Please call our Group Sales Department for more information.