Welcome to Ahwatukeelife Travel Nevada

Looking for outdoor adventure? Or just a quick weekend getaway! Nevada may be for you. The Sierra Nevada Mountains are excellent in the winter for skiing or snowboarding and there's plenty to do in the summer too - fishing, hiking, mountain biking and more, while taking in the gorgeous Lake Tahoe views. There are caves and bristle cone pines in Great Basin National Park. Nevada like Arizona is close to some of the most popular national parks in America, such as Bryce Canyon, Death Valley and the Grand Canyon. And of course we can't forget Las Vegas, still one of the top travel destinations in the country, and catering more and more to family travel rather than just adult and business travel. It can get hot in the summer, but the evenings can still cool down quite a lot. Take a look at the some of these choices (there is more than just Las Vegas in Nevada) and see if there isn't somewhere you want to go on your next trip (pleasure or business) to Nevada!

Las Vegas
Las Vegas is considered one of the most entertaining and exciting cities in the world. Luxurious hotels, resorts, fine dining with some of the best chefs in the world, live entertainment and excellent convention facilities. Be prepared to walk so you can take in all the light shows, volcano eruptions, pirate fights and fountain displays. There are also plenty of cultural events in Las Vegas such as museums, art displays and music performances. Shopping is as good here as it is in New York or L.A. just visit the shops at the Bellagio or Casears Forum shopping.

So what are some of the best things to do in Las Vegas? Well we asked some people what they thought and here are their answers.
One of the most frequently mentioned restaurants in Las Vegas is Picasso located in the Bellagio. The Rio is mentioned most frequently for it's great buffet, all-suite rooms, excellent drinks at the VooDoo Lounge and their hotel uniforms (the cocktail waitresses) are consistently some of the most mentioned of any on or off the strip. The Venetian (with all suites also) and Bellagio have some of the best rooms on the strip. There are so many themes in Vegas and it seems everyone has different tastes on this, which is why it all works - there's definitely something for everyone here. Bellagio has a Tuscan theme, Venetian the grand canal with gondolas, the Rio with a Mardi Gras/Carnival atmosphere. Some of the best entertainment is "O" the Cirque de Soleil show at Bellagio and "Mystere" at Treasure Island and you can't beat House of Blues for live entertainment by a variety of artists. For clubbing, Rain at the Palms, Studio 54 at the MGM Grand is a like the original in NYC - if you like to dance head over here. If your looking for something more adult - the Olympic Garden Cabaret is still mentioned more often than anywhere else. Anyone looking to get married may want to try Little White Chapel on Las Vegas Blvd. South - this place must have a record of marriages performed there as more people seem to know about it than almost any other. It's hard to beat the amazing shopping at the Forum Shops in Caesars - Armani, Versace - can be more expensive than the tables, but you do come back with something. As far as gambling - what gambling? Caesars palace has the Best Sports Book according to a friend of mine who would know, while he states that Binion's Horseshoe (where the World Series of Poker is headquartered) has the best Blackjack Tables and Poker Room.

Click here for more information on hotels, shows and everything Las Vegas.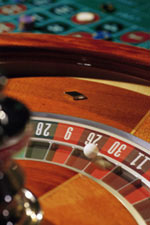 Some interesting Las Vegas facts:
Las Vegas was discovered in 1829 by Spanish explorers.
Las Vegas was first settled in 1855 by Mormons.
Bugsy Siegel opened the Flamingo Hotel in 1946.
The Las Vegas Convention Center opened in 1959.
First National Finals Rodeo were held in Las Vegas in 1985.
Mirage hotel opened in 1989.
Excalibur hotel opened in 1990.
Luxor Hotel, Treasure Island and MGM Grand open in 1993.
New York-New York Hotel opens in 1997.
Star Trek the Experience opened in 1998.
Bellagio Resort, (the most expensive hotel in the world) opened in 1998.
In 1998 a 66 year old Las Vegas resident hits a $27.58 million progressive jackpot.
Mandalay Bay Resort opened in 1999.
Paris Las Vegas Casino Resort opened in 1999.